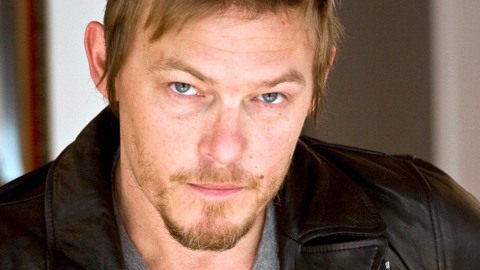 Hey reddit! Norman Reedus here. You guys may know me as Daryl Dixon from AMC's The Walking Dead. AMA!
Hey guys.
Here to take your questions.
By the way, I've designed a limited edition fan shirt/sweatshirt for you guys, available at https://represent.com/norman. A portion of proceeds goes to The Felix Organization, to help enrich the lives of children growing up in the foster care system. I hope you like it.
Victoria's helping me get started today.
AMA.
https://twitter.com/reddit_AMA/status/546743872505016321
How often do you use the crossbow outside the set?
very little really . i have a compound bow in georgia i play with quite a bit . there are arrows stuck in all the trees in my backyard
Talk about Silent Hills, what's the experience like and how did Kojima and Del Toro approach you for it?
im super excited to be a part of that . both those guys are geniuses at what they do . we haven't shot the heavy stuff yet. kojima approached me right after guillermo did
When you signed on to play Daryl Dixon, did you think that the character would still be alive four years later?
i didn't to be honest. it was such a well written script i just wanted to be involved in any way possible for however long they would have me around
What does Norman Reedus want for Christmas?
hmmm let me think . movie marathon in bed with a mountain of chocolate in a panda bear onesie
How well do you think you would do in a real apocalypse situation and do you think about what you'd do in daryls situations?
i would run . the way my cat runs when i duct tape things
What is your personal favorite episode of The Walking Dead, and why?
oh man i like a bunch of them . i really think the episode with chad and melissa was super well written and acted and directed and was awesome.
Since I know you love the game, I was wondering…what level are you on in candy crush?
246 i think . i hate that level
Why do you think The Boondock Saints has become a cult classic?
its got a lot of heart that film its a fun mix of over the top and coming right at you . id still be a fan even if i wasn't in it
Are you able to tell us if Boondock Saints III is happening in the near future?
yeah its on. in the works , happening. sean would be great on the show he's a real life ninja
What was your favorite moment filming Boondock Saints?
courtroom scene and toilet . and blowing up that cat
What's the normal routine when somebody gets killed off in The Walking Dead?
selfies , hugs, shots . we all kinda love each other . for real
What's your favorite part of being Daryl Dixon?
the people i work with are my favorite part all of them
What was it like watching yourself explode to bits onscreen in Blade II?
blowing up was weird. i stood under the ground looking up at the set thru plexi glass floors then boom . and and ear would land at my feet. i think i kept a finger
Was there ever a chance of a romance between you and Beth working out?
there was definitely a taste of it in the air
How would you like to be remembered?
m to the i n the g u s (his son)
What has been your favorite episode of The Walking Dead to work on so far?
favorite episode. oh man there are a lot . i liked stabbing my brother in the face. and falling off that bridge with mel. sitting by the edge of the road against the car talking to rick the morning after he chewed that dudes neck out was one of my favorite scenes to be in
What do you think Daryl's new mode of transportation should be?
hmm good question . and thank you . how about a ferrari ?
Do you stay in contact with Michael Rooker? Any other people who are no longer on TWD?
yeah man i see him all the time . as well as scott and jon we are all still close
Is there a reason you use a bit of religious imagery in some of your work? Or is it just a coincidence?
i dont set out to make something look religious on purpose but i see it there sometimes
Will there be any more devastating moments on the walking dead season 5?
hey man . well duh. theres some crazy stuff coming . like crazy crazy
So what's next for norman after Twd any horror movies in your future?
theres a film called AIR coming out as well as one called TRIPLE NINE . both really cool . horror i dont know im guessing yeah at some point
What's the best part of living in NYC?
theres so much to do here . all the time . so many different people from all over . and dumplings i like dumplings
Since your presence at conventions gets crazier and the lines get longer every year, do you think you'd ever stop attending these conventions?
i hope not . i think they are really fun. ive had to cancel every once in a while but that was because of work schedules only. i like them and i like meeting everyone and seeing the art they make and the costumes etc. really fun for me
Can you tell us about the design on your shirt?
yeah sure. there are three i wanna do and there is a them behind them . its like a mini secret between us which i thought would be more interesting .each will go to a different charity if they sell well. the next would go to a womens charity. the next animals
If you weren't Daryl on TWD, what character would you like to be?
hmm . um man . maybe steven for obvious reasons . or maybe rick . maybe judith . i could just eat and poop and sleep thru it
What is your favorite thing to eat? Do you cook?
i can kinda cook but not really. i went thru a wonton soup faze with the paste etc. from scratch but thats just kinda sad that thats what im thinking of . i got a juicer now i smash up everything in there . thats kinda fun
How do you think Daryl will act in the other half of season 5 with beth gone?
i think that was pretty devastating for the whole group daryl included. its kind of like real life you always think you have more time with people
How did you end up in the music video for "Fake Plastic Trees"?
those guys are awesome i knew or met a lot of those big directors at the time that were making music videos and they were a group. david fincher , jean baptist , tarsem . etc. i did a few of them . radiohead bjork rem etc. they were fun
Out of everything you've done, which film/show are you most proud of?
walking dead . boondock and six ways to sunday
If you weren't to become an actor or you had no motivation to do so, what do you think you would have achieved and become instead?
hm i dont know . ive always done stuff other than acting . id probably still be doing those things . im gonna direct a video for the bots soon. (if you dont know them you should look them up . amazing)