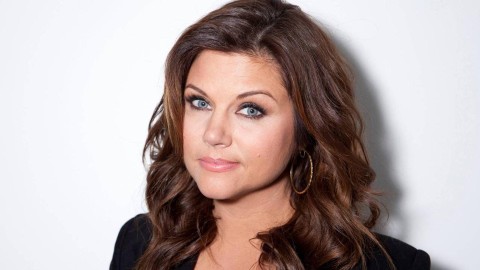 I am Tiffani Thiessen. Let's get cooking! AMA!
With my new show, Dinner at Tiffani's on the cooking channel!
A little bit about me: I'm a sixth-generation Californian, currently living in Los Angeles. Actress for 32 years, crazily enough! You might recognize me from popular shows like BEVERLY HILLS 90210 or SAVED BY THE BELL.
Victoria's helping me out via phone. AMA!
https://twitter.com/TiffaniThiessen/status/575706772050026496
What happened to the "Amber?"
Oh! Hahah! it was a professional decision that my agent of 20-some odd years decided I shouldn't use it anymore and just go with my first and last name.
It was nothing crazy.
What's Kelly doing now in your mind?
She'd probably be living in the Midwest somewhere, with 5 children probably and Zac Morris, ahahaha!
I love how you play a 'seriously, I'm not an idiot' kind of lady on White Collar. Do you wish you could have taken the character deeper?
I always think that characters are fun to explore. They're almost like an onion peeling back the layers. And I don't think you ever get enough time to explore a character, especially if you've been on for 6 seasons. So yeah!
When you first signed up for Saved by the Bell, did you ever in your wildest imagination expect it to be so popular and such a pop culture staple 25 years later?
Never.
Ever ever ever.
NEVER! Hahah!
I don't think you ever know what's going to take off, or what's not, when you're auditioning for roles in film or TV. So it definitely exceeded any of our expectations on how much the show has become iconic over the years.
Can you please share with us your anti-aging secrets? How do I age like you and not like Tommy Lee Jones?
That's hilarious. I would say the number one thing that i tell everybody with regards to health and beauty is WATER. You can never drink enough water. Water to me is the secret – even though I don't think it's a secret – to keeping healthy inside and out.
What was it that made you want to start your own cooking show, and what's your all-time favourite dish?
I've always had a love of cooking. I've been cooking with my mother, grandmother, my aunt since I was young, and I've always had a love of entertaining as well. So as I've gotten older, I've enjoyed sharing my love of cooking with friends & family, which is how I came up with the show idea, and I was happy to hear that Cooking Channel was onboard to want to do it!
My favorite dish – that's a hard question. The most requested dish I get from friends is my flatbread pizzas, and if my husband is asking, it's anything on the grill. And of course, if it's my daughter, it's ice cream for dinner (but that usually doesn't happen).
Who is a better kisser, Mark Paul Gosselaar or Jaime Pressly?
Ahahaha!
Um… oh gosh, that's such a hard question. It depends on if you're asking a 16 year old little girl, or someone a little bit older! I can't pick just one. I love them both.
What was it like to grew up in front of the entire viewing country? Was it strange knowing that you were the first crush for almost every single boy that grew up in the 90s?
And you know, it's funny? I never really thought of myself that way. I was kinda just a kid who enjoyed doing what I did, which was acting, and I felt very fortunate to be on a show that I enjoyed working with the people I worked with. I got to do a lot of things that a lot of 14 year olds don't get to do. So I felt very privileged and fortunate in that sense. And that sense of feeling like an icon amongst the boys – my eyes didn't open to that until I was a little bit older, when I was 15, 16, when that sort of became what happens as you're a teenager? And when Mark-Paul and I were starting to travel to different states as well as different countries, and we started to see what types of audiences were for the show, and what types of people were attracted to our show and attracted to our characters.
How do you stay in shape? Do you lift, pump iron or Run…and Do you have fitness role models?
Hahaha!
Uh, I am someone who gets bored very easily. So I do a lot of different things. Right now, being that I'm pregnant, I train 5-6 days a week. I do Pilates, I do spin classes, I have a trainer so I do circuit training and weight training, and I hike on the weekends with my family.
Any chance we'll see Sarah Michelle on your cooking show?
Haha! Yes, Sarah was definitely invited this season, but for her own working schedule and travel, she wasn't able to come this season, so I'm hoping to have her come by next season. Sarah's a good friend of mine.
Your new show has a few guests per episode? Is that turning out to be a challenge – to book enough interesting and complimentary guests?
Haha! Well, being that I've been in the business for 32 years, I've met a LOT of amazing people, so I'm hoping that between those people, I have a LOT of episodes I can shoot.
What's your ideal vacation?
Oh! Ideal vacation! Um… well being from Southern California, I'm definitely a girl who was raised close to the beach, so it would have to be someplace warm, someplace with an ocean and a pool, and when I'm NOT pregnant, flowing cocktails! Cocktails that keep coming!
What is going to make your show different than other cooking shows? What is unique about your point of view?
Hmm. I think my show's very different in that you're seeing a lot of familiar faces in a very organic way. I find that people coming over to someone's house to have a dinner party is a pretty fun, relaxed natural setting, so you get to see these familiar faces in that kind of setting.
If you could wake up tomorrow having gained one quality or ability, what would it be?
I would say the one thing I would love to gain, quality-wise… could I go crazy and say the one gift I would love to have would be to learn how to fly! Who wouldn't love to learn how to fly!?
What was your favorite behind the scenes moment from your time on Saved by the Bell?
Some of my favorite moments were definitely ones where we were playing practical jokes on each other, offset.
How did Jimmy Fallon convince you guys to do a Saved by the Bell reunion?
We all had a blast! I'm a huge fan of Jimmy Fallon, and it wasn't too hard to be convinced to do something like that with him. I think they'd been pressuring us for the last couple years to do a reunion, and it felt like this was the right time to do it. I keep in contact with all 3 of those people – Mark-Paul, Mario and Elizabeth – and you'll actually see Mario and Elizabeth on Dinner at Tiffani's!
If you were to host a Saved by the Bell themed dinner party, what would be on the menu?
sigh
Well, I just had Elizabeth Berkley on last week, so that hopefully answers part of that question.
I would probably bring it back a little old school, so I'd probably whip up some old school recipes from my mom, my grandmother and my aunt's recipe box.
What is your perfect burger?
Mmmm!
Well, if it's a burger that I'm making, it would be topped with probably… I'm an old-fashioned girl, so I'd have to say cheddar or American, with avocado, grilled onions, lettuce, I'm not a tomato girl on my burger (I know I'm crazy like that) and you gotta do the sauce. Thousand island! And if I really want to get crazy, I put a fried egg on top.
And if it's a quick trip in New York, it's Shake Shack. And if it's in Los Angeles, it's all about the classic In-N-Out.
What is one food staple you couldn't live without?
Hmmmmmmm.
OOOH! CHEESE!
It would have to be cheese.
What is it like being a guest on Howard Stern? How is it different than other interview shows, as a guest?
Well, you definitely have to have … kind've, you have to be aware of what's happening. You have to be centered when you go into Howard Stern. I'd heard so many things about him being a nice guy, so I wasn't too too concerned, but I think he actually – I felt that he was pretty nice and pretty easy on me, so I felt like I was able to do a pretty decent interview without getting too embarrassed at times!
If I were to have breakfast at Tiffani's, what would you make me?
Well, funny enough, not tonight but next week I do a special episode of Breakfast at Tiffani's (or brunch as you would say). I cook up a beautiful frittata, a beautiful plum caprese salad, and I show everyone how to do maple-fennel bacon – it's a really fun episode that you'll see Lance Bass in! It's to die for, people who have the bacon say it's the best bacon they've ever had. So…
What is your favorite book?
Well, it's funny, I'm not a traditional book person. My husband reads a ton of books. So we have a plethora of books. But the books that I read are cookbooks, or books that I'm reading out loud to my daughter.
How often did people see you on the street and have trouble differentiating you from your characters? Do you have any funny stories about any of those interactions if so?
I've had a lot of that, over the years, yes.
It was a tossup between people recognizing me from SBTB or 90210. Probably the most memorable fan interaction was in Las Vegas, with a woman who had a little too much to drink, and thought that I was really Valerie Malone and wanted to pick a fight with me. As my mother taught me, I walked away like a lady.
Who are your favorite TV chefs? Any other shows you looked at when getting ready?
Hmm! Dinner for Five was actually a show I did look at a lot. I did enjoy that show a lot. I love Bobby Flay, the Barefoot Contessa, all the mainstream chefs, and then I have personal favorites, friends of mine who have influenced me in the cooking world as well as my family.
Do you actually have any personality or quirks that you share with Kelly on SBTB, and if so what are they?
I would definitely say that I share some similarities with Kelly. Being that i was portraying a young girl in high school, it was very much true to my heart in that sense. Dancing was a big part of my life, and even though she wasn't a dancer, she was a cheerleader, that was definitely part of it. She's very close to her family, and I can say that's a similarity. I remember her having a lot more brothers and sisters than I did – I only had 2, but she had a ton. That's why if you asked where Kelly is today, I feel like she would probably have a ton of children.
I grew up watching Saved By The Bell everyday. What was your favorite episode to film and why?
I would have to say probably my favorite episodes (and it was plural) was when we shot a few episodes on the beach. Those were my favorites. Definitely fondest memories there.
Everyone has a sort of golden rule they try to follow in life, whats yours?
I think to live my life loving the people that I love, and cherishing them, and making sure they know how much they mean to me, and living an honest life. Living a life that allows me to work hard (because I actually enjoy working hard) and hopefully staying as healthy as possible!
Did you ever have any celebrity crushes you met along your path in Hollywood?
Oh gosh. I feel like i've been pretty fortunate to work with some amazing people that I think – sometimes when you have that work relationship, it's hard to have a crush? But the very first one that I had when I was young – and very innocently had a crush – I was a pre-teen, was Ricky Schroder from a show called SILVER SPOONS back in the day.
What kind of role would you like to play next, and when do you plan to get back into acting after having your son?
Yeah, it all depends on what comes down the pipe, you know, after I have my son! I hope to do many more seasons of Dinner at Tiffani's. But I love acting, acting is my first love, and I never want to give that up, so hopefully I will find another show or something creative that I can do as well as Dinner at Tiffani's.
What's the 2015 Summer blockbuster film you're looking forward to most? Jurassic World, Mad Max, Furious 7 or Terminator?
Hmmmm!
Well, gosh. You know what, it's hard? None of those are my kind of movies. You could ask my husband, and he's excited about ALL of them. I think I'm most excited about Cinderella, and I got to see an advance screening of it last Sunday, and I brought my daughter to it, and we both loved it.
What was it like working with the esteemed Woody Allen?
Amazing. Definitely memorable. One of the top, I'd say, 10 best moments, for sure. He is a definite genius, and I enjoyed every moment that I got to work with him. I felt very fortunate to have that opportunity.
Valedictorian? What was your graduation speech about?
Yes, I was valedictorian. But it was for a private school that wasn't probably more than 100 children? It was a school meant for professionals – anyone from actors to musicians to Olympians. So yes, it was neat to be Valedictorian, but it wasn't a normal high school! I was a straight A student, though.
I was!
Oh, good question. I have NO idea what my speech was. You're talking to a woman who's pregnant right now, so I have massive baby brain!
What's your favorite sandwich?
My favorite sandwich?
It would have to be a good classic grilled cheese with caramelized onions.
That does sound delicious right now, doesn't it?
What's the most bizarre food you've ever cooked?
Oh gosh that's a hard one too!
I cook a lot of things that are amazing, you can't pick just one! Tonight on my show, check out the Big Ol' Texas Feast that I whip up tonight for the boys of WHITE COLLAR. You can check it out here.
Prefer making savory or sweet dishes?
I would definitely say that i prefer making savory. I'm much more of a savory person in the kitchen than sweets. But I do find myself making desserts from time to time in the kitchen, just not as much as savory.
Does your show involve inviting other celebrities in to cook with you? If so, who can we expect to see as guests?
Yes, there's lots of people that come on the show! You can take a look at some of the guests on the website: http://www.cookingchanneltv.com/shows/dinner-at-tiffanis.html
But tonight was a bit of the reunion for the WHITE COLLAR boys. Next week you'll see Lance Bass and Bree Turner. And in following episodes, you'll see people like Bill Bellamy, Mario Lopez, you'll see my husband and daughter, there's a plethora of very familiar faces.
What is your favorite beauty product to use?
That's hard too, because I love so many different beauty products! I think my all-time favorite right now is anything from BeautyCounter.com – it's a great all-natural line of beauty products that does really well with making sure they using all natural, all real, no chemicals, no parabens, nothing.
What was the last album you purchased?
The last album I purchased, I think, was the Fresh Beat band for my daughter, hahaha! And the last album for myselfI think was… I think… Taylor Swift, if I remember right!
But that also was for my daughter too. But I like Taylor Swift. I think she's adorable, and very talented.
Would you be interested in writing a book sometime? Like either an autobiography or cookbook or both?
Cookbook is definitely something that has been thought about, and I'm hopefully working on to have out in the near future, for sure. Autobiography, I feel like I still have a lot more life to live and stories to collect before I do that.
What role was your favorite to play, which role was your least favorite to play?
Hmmm. tsshhhh. I'd say probably the most fun I've had in my career so far was WHITE COLLAR, probably the easiest role i got to play, in that she was probably the closest to my real self. And the hardest character? Oh gosh… good question. I think the hardest character was a small role that i played in a movie that went directly to DVD where I was being attacked by fake bats. And I'm trying to remember the name of it – oh god. Maybe someone can do some searching and find that movie. I leave it up to you do the research. This baby brain is fried!